07 May

One of the Originals – Audrey Hepburn at the Barre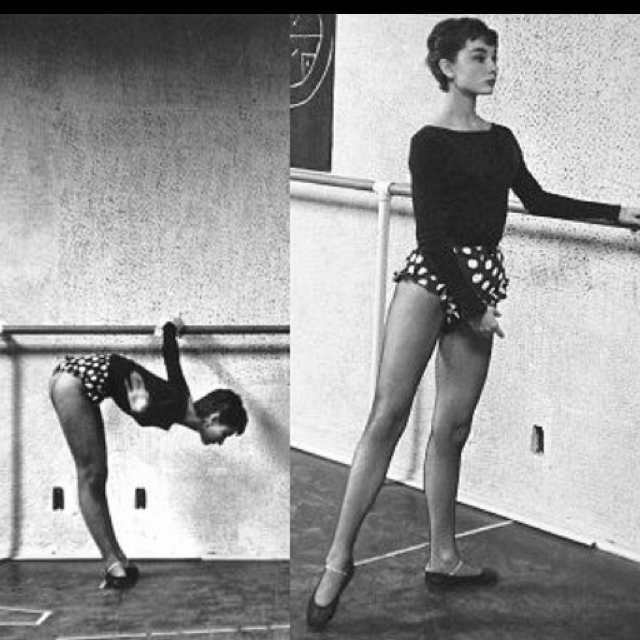 Take a barre class and you'll be following in the footsteps of some of the world's best-known icons, including Audrey Hepburn!
Best known as a movie actress having starred in such classic movies as Sabrina, Funny Face, Breakfast at Tiffany's, My Fair Lady and Roman Holiday (for which she won the Academy Award for Best Actress), Hepburn had a fascinating, if tumultuous, upbringing. Her mother was a Dutch baroness and her father was a British businessman; as a result, she spent her childhood bouncing between Belgium, England and the Netherlands. In 1939, shortly after the start of World War II, Hepburn's mother moved the family back to the Netherlands in the mistaken belief that the country, which had remained neutral and free from the devastation of World War I, would not be drawn into the conflict. She was mistaken.
The country was occupied by the Germans in 1940. By 1944, they had executed Hepburn's uncle, one of her brothers was in a labor camp, and the other had gone into hiding.  Hepburn was still a young teenager when she began to help the Dutch resistance. An accomplished ballerina by age 14, she started out helping the resistance by dancing. How was this helpful? She danced in secret productions to raise money for the resistance. As she famously said, "The best audience I ever had made not a single sound at the end of my performances." Hepburn also occasionally ran messages for the resistance. Had she been discovered doing either of these things, a swift execution would have followed.
Like most of the Dutch, Hepburn and her family endured famine and other hardships throughout World War II. Hepburn herself suffered from respiratory illness, edema, and anemia during the Dutch Famine of 1944. When humanitarian aid finally arrived providing much needed relief, Hepburn witnessed first hand the transforming impact international aid agencies can have on suffering regions. As a result, she developed a life-long devotion to the United Nations Children's Fund (UNICEF) and was appointed a Goodwill Ambassador in 1989. She was awarded the Presidential Medal of Freedom in 1992, four months before her death.
The full article by Melissa Blevins can be found at http://www.todayifoundout.com/index.php/2013/04/wwii-files-audrey-hepburn-and-the-dutch-resistance/
Special Barre Classes in May!
Flex is holding a full range of Barre classes throughout May – build a uniquely strong, firm, sculpted body with these ballet inspired classes.
Xtend Barre Stick Fundamentals
with Trixie Velez
12th May
|
5 – 5 PM
|
Central
Core Barre
with Heather Thomas Shalabi
21st May
|
1:45pm – 2:45pm
|
One Island South
with Cheng Fang Wu
26th May
|
2:45pm – 3:45pm
|
Central