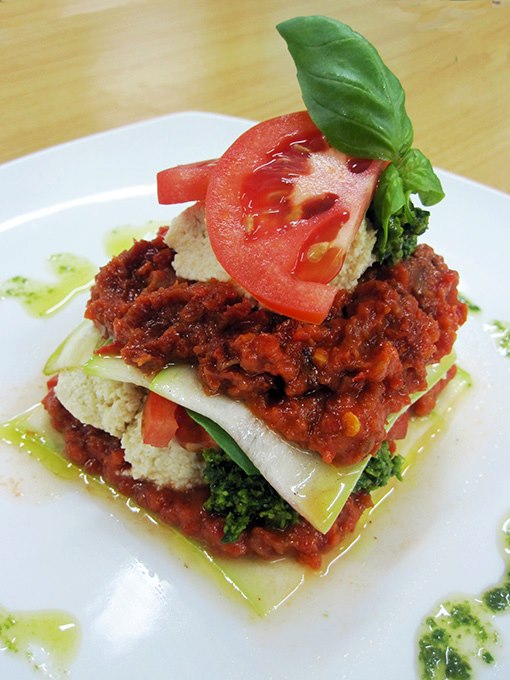 08 Aug

Heirloom Tomato Rawsagne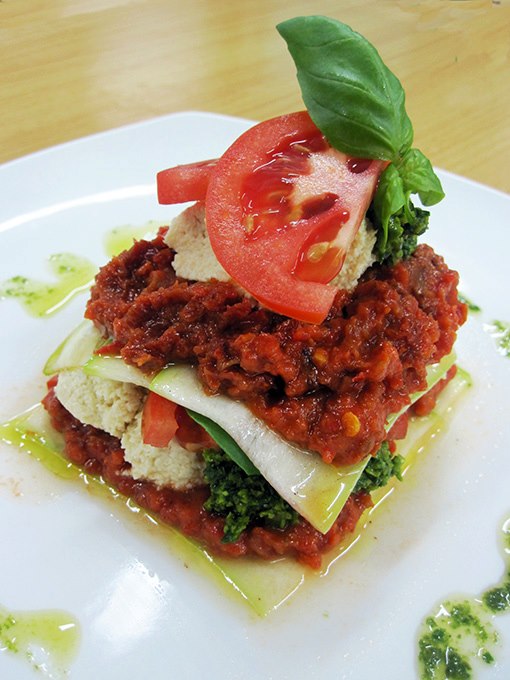 By Calista Goh at Anything But Salads
This recipe may seem a little complicated to put together, but the results are spectacular. And the various elements can also be used to make a number of different dishes when combined in different ways. So healthy without the gluten, this is a perfect hearty lunch or healthy dinner. Enjoy!
Ingredients for the Pasta
1 whole zucchini, halved and thinly sliced with a mandolin
Extra Virgin Olive Oil
Sea salt and pepper, to taste
Method
Mix the pasta in the olive oil, salt and pepper. Set aside to marinade.
Ingredients for the Cashew Ricotta Filling
1 ½ cups cashews, soaked
2 tbsp lemon juice
2 tbsp water
½ tbsp lemon zest
2 tbsp nutritional yeast
½ tsp sea salt
½ green onion, minced
1 tbsp fresh parsley
Method
In a food processor, blend the cashews, lemon juice and zest, nutritional yeast and salt until smooth.
Transfer the mixture into a bowl and fold in the minced onions and parsley.
Taste for seasoning and adjust as needed.
Note: The filling should have the consistency of ricotta cheese.
Ingredients for the Basil-Pistachio Pesto
1 cup fresh basil leaves
¼ cup spinach leaves
¼ cup pistachios
2 tbsp Extra Virgin Olive Oil
1/8 tsp sea salt
½ tsp lemon juice
Pinch freshly ground black pepper
Method
Place the pesto ingredients in a food processor and blend until well combined but still slightly chunky. Maintaining the texture is important.
Ingredients for the Red Pepper Marinara
½ cup sundried tomatoes, soaked for 1 hour
1 medium tomato, de-seeded and roughly chopped
½ shallot, chopped
1 tsp lemon juice
2 tsp olive oil
¼ tsp sea salt
¼ tsp red chili flakes
½ red bell pepper, seeded and chopped
Method
Squeeze out the excess water from the sundried tomatoes.
Process everything in your food processor. Leave chunky.
Ingredients for the Herb Oil (optional)
1 cup olive oil
¼ cup spinach leaves
¼ cup fresh basil leaves (or herb of choice)
Pinch sea salt
Method
Blend well then strain, keeping the solids.
Note: You must store this in the refrigerator – it will keep for 3 – 4 days.
ASSEMBLY
Layer two slices of zucchini pasta on the bottom.
Spread red pepper marinara on top of the pasta.
Top with another two pieces of zucchini pasta.
Add cashew ricotta and basil-pistachio pesto.
Top with slices of fresh tomato.
Cover with two more slices of zucchini pasta.
Spread another layer of red pepper marinara on top.
Finally top with dollops of cashew ricotta, basil-pistachio pesto, two slices of tomato and microgreens (if desired). Garnish the plate with herb oil.
NOTE: Assembled rawsagne will last for two to three days in the fridge.
This recipe comes from Calista Goh, founder of Anything But Salads, one of Sheung Wan's go-to stores for superfood chocolate, bulletproof coffee and granola to go. They have just opened their new café, taking advantage of the off-road space for hanging out, snacking and deliciously healthy dishes like this one above. www.anythingbutsalads.com