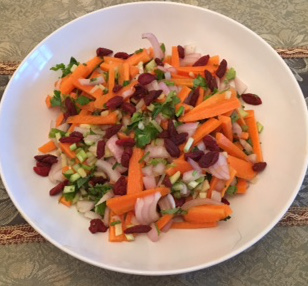 06 Oct

Carrot Ginger Salad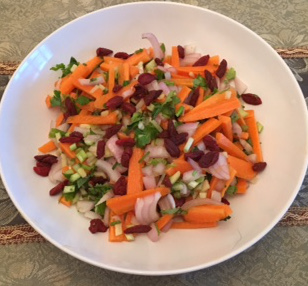 By Flex Pilates instructor Megan Farrugia
This super easy, cheerfully bright salad is great on its own as a healthy lunch or works well as a side dish for sandwiches and quiches. Make a generous batch and don't worry if you don't finish it all at the first sitting as it gains even more flavor when you leave it in the fridge overnight.
Ingredients
For the salad
1 bag of carrots – most come in 1lb sizes
½ cup golden raisins – you can try adding Craisins, slivered almonds, golden berries, shredded red cabbage or spring onions into the mix too
For the dressing
1/3 cup apple cider vinegar
Pinch of salt
Pinch of black pepper
1 tsp agave syrup or honey
½ c extra virgin olive oil
2 tbsps chopped cilantro
2 tbsps grated ginger
Method
Shred the carrots into a medium sized bowl.
Add the golden raisins and any of the other ingredients you'd like to include.
Combine all the dressing ingredients, whisking together with each addition. Pour the dressing over the salad and serve.
About Megan Farrugia
A long-term weekend warrior, Megan is a triathlete as well as a skier and took up Pilates when stress in her neck and shoulders started giving her headaches. Not only did it rid her of the pain, it also increased her athletic performance and frame of mind. She loves Pilates and loves teaching it to others, having shared her expertise and learned more, while travelling with her family around the globe. Check out her Knee and Ankle Clinic for Skiers, being held at Flex Studio Central on Friday 21 October 7.3pm – 9pm here.