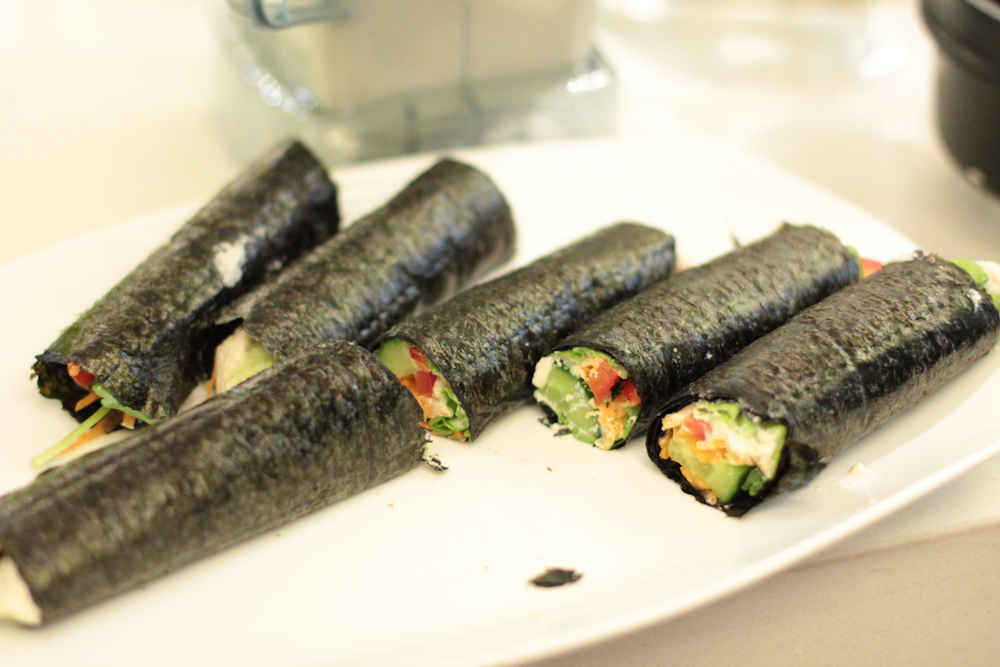 06 Jun

Nori Hand Rolls with Cashew Cheese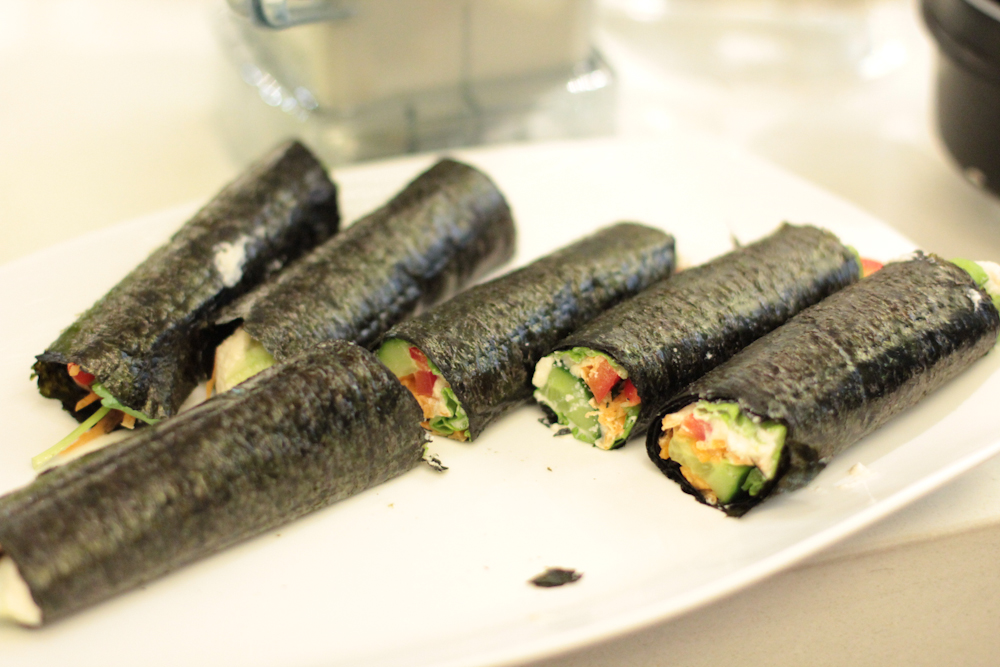 By Flex yoga instructor Jessica Williams
I love this recipe as it is so full of nutrition.
Seaweed is a true superfood! It contains alginate, which offers protection against environmental pollutants like radiation and heavy metals and is also a rich source of iodine, supporting thyroid function and healthy metabolism.
Nori, most commonly used for rolling sushi, is higher in vitamin A than carrots, and antioxidant-filled vitamin A is necessary for eyesight, healthy skin, supporting the immune system and healing mucous membranes, which can help heal the digestive tract.
Delicious, nutritious cashews contain monounsaturated fats, which are protective against heart disease, as well as protein, and minerals such as magnesium, calcium, phosphorus, potassium and selenium. People who regularly eat nuts are less likely to experience heart attacks or die from heart disease.
Cashew Cheese
Ingredients
2 1/2 cups cashews, soaked
3 tbsp tahini
2 tbsp miso paste
1 cup water
Method
Soak the cashews and dump the water.
Blend the cashews with the tahini and miso paste.
Add water until the paste is creamy and smooth.
Nori Hand Rolls
Ingredients
Toasted nori sheets (for rolling sushi)
Cucumbers, sliced
Ginger, sliced or grated
Carrots, grated
Red bell pepper, sliced thinly
Beetroot, grated
Lettuce leaves
Coriander
Cashew cheese
Soy sauce or wheat-free tamari (optional)
Method
Place a nori sheet on a bamboo rolling mat.
Place one piece of lettuce on the mat and then fill it with the cashew cheese and a selection of the remaining vegetables.
Roll as tightly as you can into a sushi roll.
Lightly wet the edge of the nori with water to seal it shut. Repeat.
Slice each roll in half and serve with soy sauce.
Enjoy!
To find out what Jessica's amazing yoga classes are like, join her on the mat at her new Ashtanga Yoga "Led" Primary Series yoga classes.
About Jessica
With a Masters of Science Degree in Holistic Nutrition, Jessica has over a decade of experience working within the nutrition and health industry, has managed one of the world's leading detox and cleansing retreat centers and has taken hundreds (if not thousands) of people through cleansing and detox programs. She believes in the body's innate ability to heal itself when given the right tools and Body Awakening provides the tools in the shape of high-quality, food based supplements and cleansing and detox kits, soon to be available at Flex, or find them online at www.bodyawakening.net.