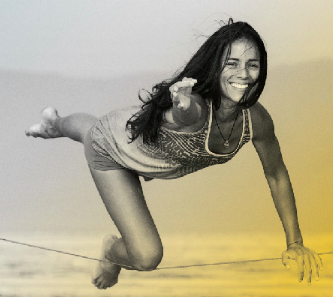 29 Oct

Learn slackline tricks at the Flex Fest!

By Raquel Hernandez-Cruz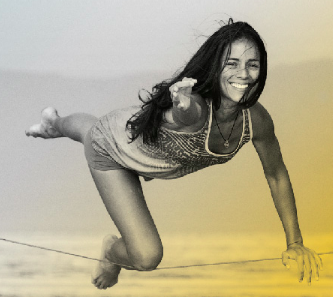 From the first few hesitant steps and balances to inversions and acrobatics, Slacklining has become a staple of the festival circuit. Who better, then, to have headlining our Flex Studio Family Yoga Festival than Raquel and Sam of YogaSlackers? In Hong Kong for the very first time to teach slacklining, AcroYoga and slackline yoga, come and watch them perform magic feats of balance. Raquel guarantees they can get anyone slacklining in just 90 minutes. Come and try it yourself!
Where did Slacklining start?
Slacklining started in Yosemite Valley in the late seventies. After playing with circus artists on a tight wire, climbers started to rig webbing to mimic the experience. Little did they know that they would start a new sport! Since then slacklining has grown to encompass different expressions: Rodeo lines, garden lines, longlines, highlines and tricklining are the most common.
And who founded YogaSlackers?
Having a strong climbing background and yoga foundation Sam Salwei and Jason Magness helped to develop Slackline Yoga, founding YogaSlackers in 2005. Their intention was simply to play on a slackline while applying yogic concepts and principles. It may seem impossible at first but in fact it's quite the contrary, the YogaSlackers approach mimics a yoga class by incorporating whole body movement, as well as breath and "oneness", rather than being centered around walking.
When did you and Sam fall in love with AcroYoga and Slacklining?
Sam and I started practicing Yoga, AcroYoga and Slackline Yoga before we met. Our paths started in a similar way: searching for a way to increase our performances in climbing (for Sam) and meditation and healing arts (for me). Yoga helped us increase our strength, gain flexibility and find stillness in our minds – elements we find very useful for any activity.
What will Flex Festival goers learn in your Slacklining classes?
In the past ten years YogaSlackers have taught the art of slacklining to over 30,000 people and the secret to our method is safe progressions, intentional movements and detailed instructions. When we include these three points of focus, we can take any posture and make it accessible to anyone at any age. Slackline Yoga classes have five main focuses: kneeling, sitting, standing, arm balances and inversions. We guarantee we can teach anyone to slackline in 90 minutes!
Check out this video on how to start off…
The main thing to keep in mind is that slacklines do not move on their own. If the line is moving it is because the student is moving it. Once students make this realization and focus on creating movement from one point of 'fluidity' the shaking vibrations usually decrease and eventually dissipate. The beauty of slacklining is that there is always a limit to be pushed, a boundary to explore and a balance to be tested, similar to yoga.
Watch this video that explores transitions in slacklining.
What's the easiest way to learn?
There is no one move that is easiest for everyone, and that's the reason we teach five different ways (kneeling, sitting, standing, arm balances and inversions) to connect to the line. Each individual will discover which pose is easiest for them.
Is it addictive?
We have found that each person needs to experience the practice long enough to feel 'in the zone'. Some feel it instantly, while others need a few classes or sessions. But if they give it enough time, they will all catch the bug sooner or later!
Start your addition to slacklining watching this video…
Saturday 14th November 2015 – Family Yoga Festival, Cyberport Podium
Slacklining with Sam Salwei and Raquel Hernández-Cruz
9:30am – 11am | Fundamentals of Slackline Yoga
11:30am – 1pm | Slackro: Slacklining and AcroYoga
2:30pm – 4pm | Next Step in Slackline Yoga
4:30pm – 6pm | Slackro: Slacklining and AcroYoga
Pre-register for the Slacklining and AcroYoga classes at Flex Studio Family Yoga Festival on 14th November – find more details here.
For studio classes
Friday, 20th November
One Island South
10am – 11:30am | First Flight
5:30pm – 6:45pm | First Flight for Teens 7pm – 8:30pm | Advanced Acro Flow
Saturday, 21st November
Central
2:30pm – 4pm | First Flight
4:30pm – 7pm | Dynamic Inversions