28 Aug

Flex Sponsors the BlueSeventy Ocean Swim Series 2015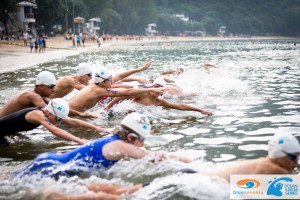 Taking the family to the beach is always fun, so why not up the excitement and join over 1,000 other swimmers at the Blueseventy Ocean Swim Series? This super-successful event has been running since 2004. "The Ocean Swim Series was created with the objective to offer competitive but fun open-water swimming races to swimmers of all ages and abilities," says Tiffany Yam, business development manager of organizing company Revolution-Asia.
There will be three races, held over the 30th August, 6th September and 27th September, all starting and finishing on and around Hong Kong Island. Each race has three courses; a long adult course, a short course and one designed specifically for kids. On the starter's whistle the competitors run down the sand into the water and safety officers paddling kayaks flank the swimmers to ensure no one gets into any difficulty.
"We absolutely encourage first timers to join," says Tiffany. "In order to help swimmers prep for the race, we collaborated with Olivier Baillet, professional trainer from Beyond the Line, to organize training workshops."
The training was so popular it sold out, but Tiffany adds that as long as everyone who has signed up can swim confidently in open water, then everyone is welcome. "Among our participants, we have top tier level swimmers who can finish 1.4 km race in about 18 minutes, we also have swimmers who need about an hour to finish the same distance."
"Brilliant!" is how elite triathlete Kate Rutherford described last year's event. "It's great watching the kids go first, it's just amazing, the atmosphere is wonderful."
On-shore supporters and those on the beach pre- and post-racing have a number of sponsors' booths to visit. Among them you'll find Flex, setting up on September 6th, with complimentary passes and 10% discounts on first package purchases. Plus, all participants can sign up to win a Platinum Pass to Flex's amazing Pilates, Yoga, Xtend Barre and other classes. In addition they will be helping you rehydrate with the help of their partner Punch Detox with super healthy juices replenishing you with vitamins and energy just when you need it.
So sign up and get down there to rack up a personal best in ocean water swimming!
Race 1 – 30 August – Deep Water Bay – Middle Island
Kids' course: 250m
Short course: 500m
Long course: 1.4km
Race 2 – 6 September – Middle Island – South Bay
Kids' course: 250m
Short course: 500m
Long course: 1.8km
Race 3 – 27 September – Deep Water Bay
Kids' course: 250m
Short course: 500m
Long course: 1.5km
Register for the event here.