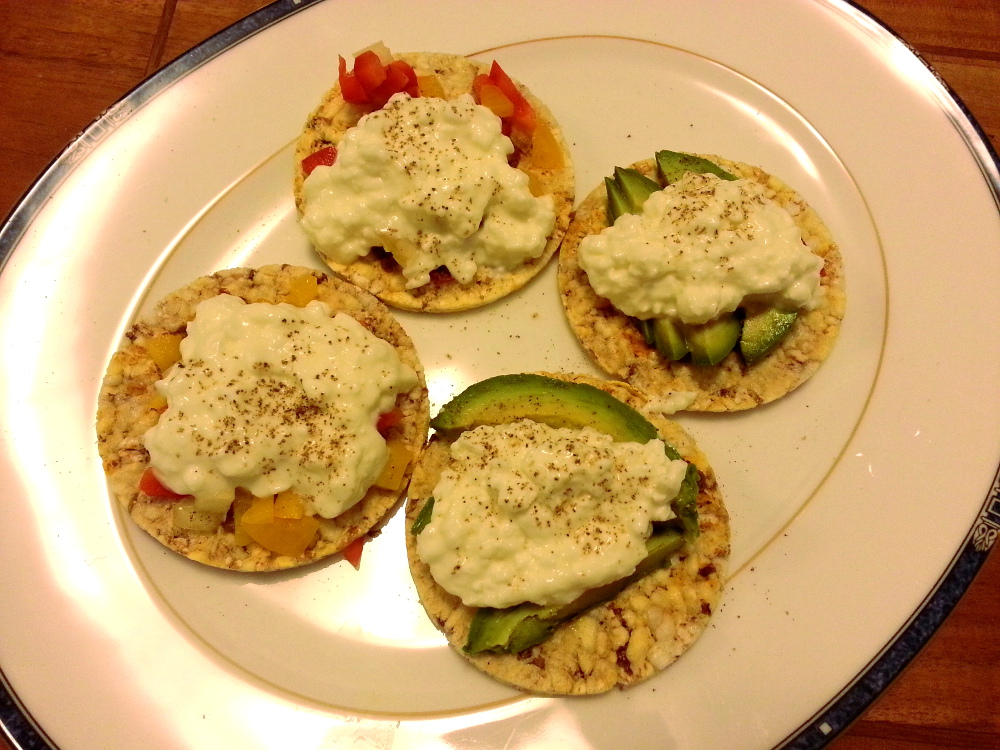 27 Jun

Crunchy Afternoon Snacks
By Flex Pilates instructor Nicole Serje
These are my go-to mid-afternoon snacks, or sometimes I'll have some after dinner if I'm hungry. The corn thins give a nice crunch, and the avocado is one of my daily servings of healthy fat. Cottage cheese provides the protein, and of course I love to add a nice sprinkling of cracked black pepper.
This is also a great snack for the kids, and you can do any variations you like. My kids usually just have corn thins with cottage cheese on its own. It's quick and super simple.
Ingredients
4 corn thins or rice cakes
1/2 avocado, sliced
4 heaped tbsp cottage cheese
2 heaped tbsp homemade salsa (capsicum, onion, tomato)
Directions
First make the salsa by chopping equal amounts of tomatoes, red onion and red capsicum into tiny cubes. Combine in a bowl and if you like add some fresh coriander and chili flakes.
Arrange the corn thins or rice cakes on a plate.
Add slices of avocado and/or salsa, then top with generous helpings of cottage cheese.
Grind black pepper over the top.
Serve and eat while still crispy.
About Nicole
Flex Pilates instructor Nicole Serje was introduced to Pilates while she was a dance student and has been a Pilates instructor for over a decade. She has completed a Bachelor of Exercise Science and loves working with dancers , rehab clients and pre/post natal mums. Find her at One Island South teaching Post-Natal Pilates Allegro, Fat Burn Pilates Allegro, Xtend Barre, Express Xtend Barre and numerous Pilates classes.