26 Jun

A Fine Balance – The detailed craft of making Pilates machinery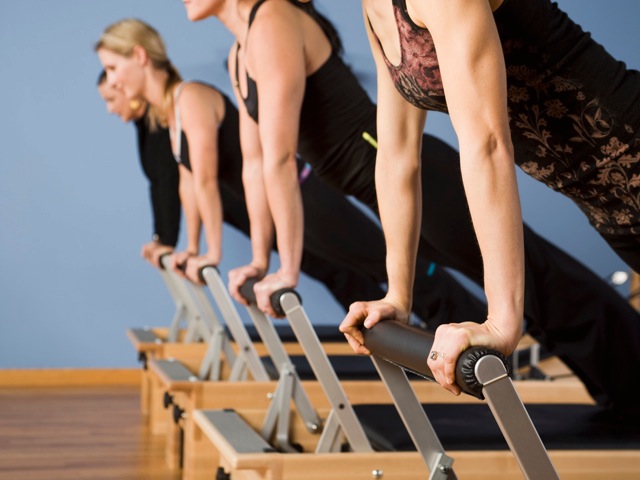 The Allegro machine on which you stretch, push, lie and – let's face it – achieve fantastic physical results, is more than just a piece of exercise equipment.
In fact, for the folks at Pilates equipment trailblazer Balanced Body (BB) in California – an impressively environmentally conscious group – each piece from their Pilates apparatus collection is a fine example of craftsmanship, and the company is suitably proud of the quality produced.
But if that's the case, what actually does go into the making of a Pilates machine and who created the modern day versions?
While many of us are now relaxing on summer holidays, the people at BB are busier than ever. Reason being is that they're getting ready to provide studios like Flex with the latest versions of their beautifully crafted apparatus, to ensure you get back in top notch shape at our new Central branch after your break.
Our new Wyndham Street-based studio will have a fabulous array of the latest from BB, making your workout all the more enjoyable and effective.
But just who is BB and why are they so good?
Way back in 1976 Ken Endelman began his career as a designer and craftsman of fine custom furniture in Hollywood's fashionable Melrose Avenue district.
That background is still evident in every piece of hand-finished equipment the company makes.
Ken was working away one day when a potential customer came into the store. She taught an exercise called Pilates and wanted Ken to build her a better version of something called a Reformer. Ken had never heard of this exercise or equipment, but he was intrigued. He studied the equipment and Joseph Pilates' original designs, then consulted with other instructors to design new features with new materials that would facilitate execution of the movements. The result? A modern Reformer that was smoother, quieter, safer and more user-friendly.
And a new career for Ken.
Throughout the 1980s, Ken continued to refine Pilates equipment, consulting with the most influential people in the industry, including some of the original students of Joseph Pilates himself: Ron Fletcher, Eve Gentry, Carola Trier and Kathy Grant. That refinement continues today and keeps BB at the forefront of Pilates equipment design.
BB has always believed that mindful movement like Pilates changes people's lives. Its passion for positive change has resulted in the company becoming the world's largest provider of Pilates equipment and education.
It was the first Pilates company to substantially update Joseph Pilates' equipment by combining state-of-the-art engineering, materials and technology with a modern understanding of human biomechanics.
Fearless leader Ken (still the CEO) designed hundreds of improvements to Pilates' original equipment, many of which have since become industry standards. BB has been awarded 28 US patents</a> and numerous foreign patents for his inventions, with more patents pending.
To watch how a BB Reformer is made, click below:
http://www.pilates.com/BBAPP/V/company/craftsmanship.html
As the company explains, "BB wood is beautiful, absorbs noise, and is built to last a lifetime. We offer two standard wood choices, Strata® Rock Maple and Strata® Artisan Maple. Strata's® superb strength and durability come from its solid, multi-grained core, laminated in alternating grain directions.
"This creates an exceptionally strong, straight board, which neutralizes the forces that could otherwise cause twisting. The result is an unusually strong, sturdy wood – ideal for Reformer frames – with a distinctive "butcher block" look."
BB equipment also now features Naugahyde®, the finest US-made upholstery on the market.
Furthermore, BB is a company deeply committed to the environment, and has won awards for its efforts. The company announced in 2012 that, for the third year in a row, it received the Waste Reduction Awards Program (WRAP) award administered from the California Department of Resources Recycling and Recovery.
Their approach covers everything from how the offices are heated to the packaging of materials.
For example:
Wood products

Balanced Body uses only sustainable harvested lumber (which means no tropical rainforest deforestation).
Its specialized cutting and laminating technology maximizes lumber yield, and minimizes waste.
Shipping alternatives:
Large equipment ships in specially designed cardboard crates instead of wood or metal containers.
Their cardboard pallets are more easily recycled than wood.
Packing materials:
All plastic bags used are made from recyclable materials.
Durability of products:
It is unavoidable that foam products (mats and rollers) are made of petroleum products. While they are not environmentally friendly products:
Their new mats contain no PVC or chloride (and are also latex-free, for those with allergies).
It has developed long-lasting foam rollers, which reduces waste in our landfills.
The long-term durability of the wood and metal equipment also ensures less waste.
The facility
BB's office and manufacturing spaces are in a "recycled building" (a former Army depot). At its request, their landlord worked with them to install "green" building features, including:
52 skylights to dramatically increase the amount of natural light
Replacement of all light fixtures with new, more energy efficient units.
77,000 square feet of ceiling insulation added
Air conditioning alternatives
During our hot summer months in Sacramento, they adjust work shifts to avoid having to install AC in the shop, yet provide a comfortable environment for employees.
The shop areas are laid out with large open doors, to maximize fresh air flow during hot weather.
Emissions contained
Dust control systems and isolation of our woodworking areas minimize employee exposure to dust.
The spray booths and air quality control systems are regularly inspected to ensure ongoing quality.
It's nice to know that your workout is not only being maximized by the quality of the products your using, but that the products themselves have been made with care and consideration, for you and the environment.
See you in mid-August at the Central studio!